Mission Statement :
Through its utilization of the combined expertise, resources, and distribution channels of its volunteer members, the mission of the South Lake Fire Safe Council is to analyze, plan, coordinate, and manage available resources to reduce fire hazards and improve public safety through a combination of education, dissemination of information, and community projects in South Lake County, California.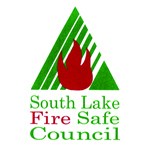 How the South Lake Fire Safe Council can help you!

Sponsor an educational workshop to teach you and your neighborhood how to become a fire wise community.

Help neighborhoods develop community fire plans.

Distribute fire safety materials on fire preparedness.

Provide
inexpensive chipping
of properly prepared material.
How you can help the South Lake Fire Safe Council!


Be active in your neighborhood.

Set up an association and assist with the development of your community plan.

Join the Fire Safe Council Volunteer Team today.
Contact us
for more information.
© 2011
South Lake Fire Safe Council,
a non-profit organization .
webmaster
Donations are appreciated towards this important cause